There's lot more you can do with your Mobile camera than taking endless selfies, posting stories on Instagram, Snapchat etc. You could make some real money with these Android apps instead. Amateur photographers, as well as semi-pros, can now earn some extra money from their Passion. Heres a list of Top 40 Android apps available today for making money with your photography.
1)Cutcaster – Earn 40% – 65% for each credit spent downloading the contributors' file.
2) Bigstock – Your earnings are per download and based on the customer's type of payment plan, and image size purchased.
3) Alamy – Earn 50% of each sale.
4) Animals Animals – Make 50% commission off your high-quality animal and nature photos. See site for submission guidelines.
5)  Envato Market – Price your items, pay the Envato fee (which varies on exclusivity and how much you sell) and the remainder is your seller fee. See site for a detailed fee table.
6) Dreamstime – Earn 25% – 60% from each sale you make.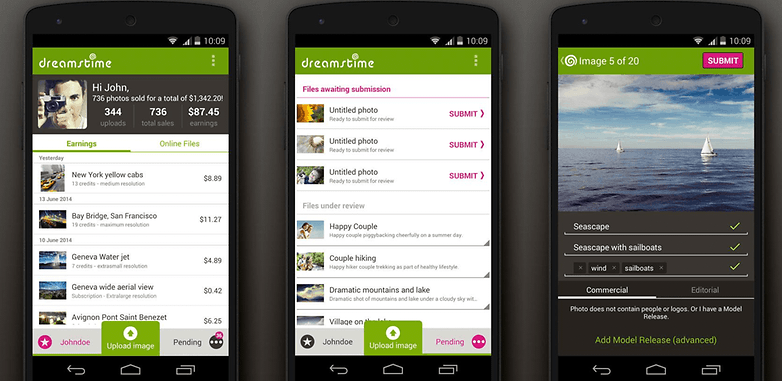 7) Corbis – Contact for rates and details.
8) Crestock – Royalty rates are calculated on a progressive scale, based on the total number of images sold since joining, ranging from 20% – 40% commission.
9) CrowdFoto – Select an assignment, use your camera or smartphone to take the image, and upload it. If the client likes your photo, you'll be paid €20 via PayPal.
10)  123RF – Earn 60% commission when someone downloads your image.
11) DepositPhotos – Commission depends on the license type under which the image is uploaded and the resolution in which it has been purchased. It is also influenced by your author level and status on the website.
12) BlendImages – Contact for rates and details.
13) 500Prime – Make money by uploading and selling your photos on 500Prime. Payments are made via PayPal.
14) Fotolia – Earn 33% royalty on every image sold.
15) FudPix – Create an account, upload your food photos, and earn up to 50% on each sale.
16) GL Stock Images – Currently not accepting new applications, but will resume soon.
17) Image Vortex – Earn 75% – 25% of the license fees received from sub-licensees for your photographic content.
18) IngImage – Currently handpicks photographers and illustrators who can create natural images that capture a moment and excite their clients. Apply to be a contributor.
19) Inmagine – Contact partners@inmagine.com with your background and contact info for additional information.
20) iStockphoto – Pays contributors a base royalty rate of 15% for each file downloaded. If you are an exclusive contributor, you can earn up to 45% commission.
21) PhotoSpin – Earn a 40% revenue split for non-exclusive images. Payments made via PayPal, Skrill, or by check.
22) PicHit – Earn 20% of revenue from subscriptions, plus additional bonuses for the popularity of your photo. Photos with exclusive licenses will get you 100% of the set reward money.
23) Pond5 – Set your own prices and you earn 50% of each sale. And you don't have to sign any exclusivity agreements.
24) Shutterstock – Get paid for photos, illustrations, and video clips. Rates vary on the subscription plan, exclusivity, and type of vector. The site says you can earn up to $120 per image download and 30% royalty on every clip purchased.
25) SmugMug – Upload your photos, set your price, and earn 85% of the markup.
26) StockedPhotos – Accepts photos and illustrations from talented and experienced photographers and artists. Apply for consideration.
27) StockFood – Accepts images from outstanding food photographers and videographers. See site for the application process and submission details.
28) Stockfresh – Earn a minimum royalty rate of 50% which can go up to 62.5%. Apply for consideration.
29) TextureVault – Not currently accepting photos. Check back and fill out an application to be considered.
30) Veer – Earn $0.35 – $7.00 per image or illustration download (based on size). Extended license rates vary. Must apply and be approved before submitting photos.
31) Yay Micro – Pays photographers and illustrators 50% commission on images. Payments are made via PayPal.
32) Clashot – Is a smartphone app where you can earn royalties of about 44% from each photo sale. Download the app, upload your photos, and earn money each time one of your photos is sold. Available for both Apple and Android smartphones.
33) EyeEm – It is one of the biggest names in this list, and with that comes positive and negative points. On the plus side, a huge network of members combined with a scheme that highlights the best new photographers can help a few people make a splash, but it also means that there are millions of other users' photos that prospective buyers can purchase.
Unlike some of the other ones here, EyeEm doesn't focus on just being a photo marketplace. Instead, it's worked to bring together people who love taking and sharing photos by building filters and other tools into the app and found a good way to keep them coming back for more while monetizing the service at the same time.EyeEm boasts of over 18 million members
You can upload any images you want to sell or license to the marketplace, and keep control over all rights (allowing you to assign different levels to different images, for example) at the same time as giving brands and agencies the opportunity to use them for a fee. Alongside the traditional market setup, there are "exhibitions, awards, magazines and Missions" to help entice users to keep coming back.
34) Foap – FOAP is probably one of the best-known platforms for amateur and professional photographers. Download the Foap application (available for both iPhone and Android operating systems) to your smartphone and upload your photos. Once your image receives five positive ratings from other Foap users – your photo will be published for sale. You will earn $5 each time someone purchases your photo. Payments are made via PayPal when the user requests a cashout.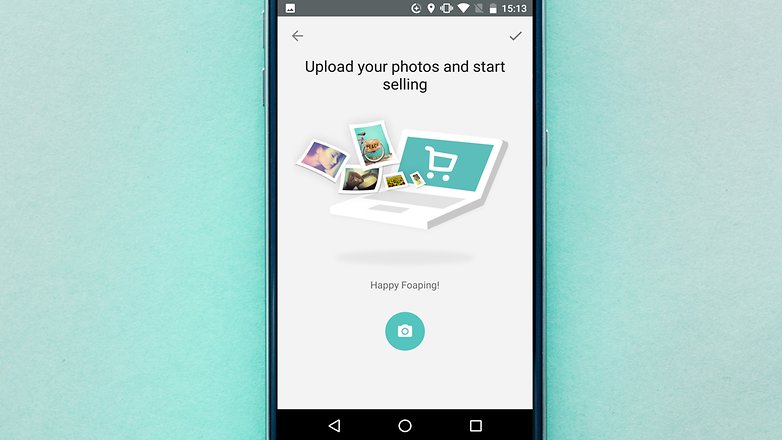 35) Scoopshot – Earn money by completing photo and video assignments via Scoopshot. This moneymaking app is available for both iPhone and Android systems. Money is made from direct photo and video purchases and also via revenue sharing options. Payments are made via PayPal when you request a cashout.
36) Twenty20 – Earn 80% commission on single photo licenses. Earn 20% commission on subscription plan licenses. Available for both iPhone and Android operating systems.
37) Snapwire – like the rest of the apps in this list, gives you the opportunity for the amateur or semi-pro snapper to monetize their passion.
38) Markedshot – Markedshot (and the next item, Dreamstime) are more basic approaches on the marketplace, that focus purely on providing you with that space to sell your photos. As with others though, Markedshot's main money-making potential can only be realised through competitions.
Instead of a flat $5 fee through the marketplace (of which you get 50%) for each photo, competitions on Markedshot are client-led projects with specific requirements – they may also require you to live in a specific location to be eligible too, as many are for local project requirements.
However, it's also a little bit different to a general photo marketplace, as the emphasis really is on quality images. That means it might be more attractive for semi-to professional photographers
39) miPic (iOS only)
You Can Earn Money with your Instagram Photos as well :
40) InstaPrints – Simply upload your Instagram photos to InstaPrints and determine your prices. When a customer purchases one of your prints, InstaPrint will finalize all the details. Payments are made on the 15th of each month via PayPal (global) and check (US residents only).
Post in the comments below if you use any other apps to make money from your photos!